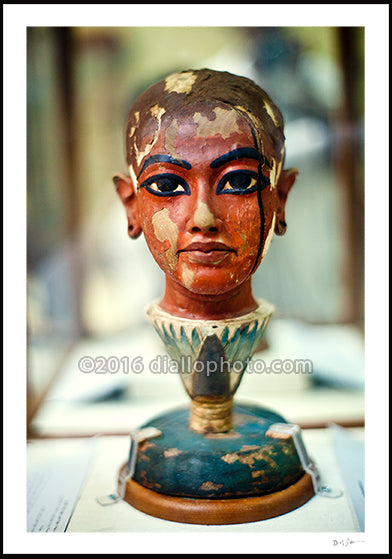 "The Boy King" Tutankhamen
Regular price $ 125.00 Sale
Photography by Diallo Mwathi Jeffery
Year: 2016
Location: Cairo, Egypt
 •
Signed Original
8.5" x 11"
A wooden statue of Tutankhamen, photographed at the Museum of Egyptian Antiquities in Cairo, Egypt.
Archival Pigment on your choice of 8.5" x 11" fine art Luster Photo Paper.  Select size/surface option above for pricing.
A finite quantity of this open-edition photographic print will be fabricated numbered, and signed by the sole photographer and printmaker Diallo Mwathi Jeffery.
•••
Tutankhamen (c. 1338 - 1328 B.C.E.), whose name means "living image of Amen," ascended the throne at nine years of age. With the guidance of strong courtiers, he moved the court back to Waset (Thebes) and returned Kemet (Ancient Egypt) to a veneration of the deity, Amen. This enabled the priesthood to regain religious and political influence in Kemet. Tutankhamen died of unknown causes. His tomb is in the Valley of the Kings.
Printed by the artist without watermark.
All purchases include a 30-day satisfaction money back guarantee on artwork.